Main content starts here, tab to start navigating

We are proud to announce our 2nd Annual Golden Ticket Hunt for St. Jude Children's Research Hospital featuring our very own scratch-off game, and local, handcrafted treats from Mr. B's Chocolates! Each box of Mr. B's Chocolates comes with a scratch ticket, each ticket reveals a prize with a few extra bonuses in the mix!
Three lucky winners will reveal FREE Tavern Grill for a YEAR!
NEW THIS YEAR! Reveal a secret code and enter to win a $500 Tavern Grill Gift Card!
We will be drawing winners randomly each week with 6 winners in total.
Have a code to redeem? Click here.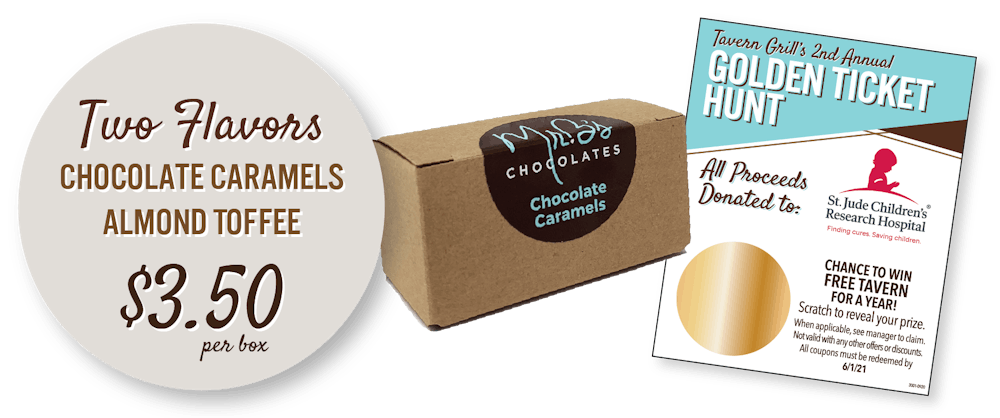 All Tavern Grill locations participating! Quantities are limited.
Why St. Jude?
"No child should die in the dawn of life."
- St. Jude's founder, Danny Thomas.
The mission of St. Jude to not only treat children with cancer but to continue to lead advancements in research, treatment, and prevention while also freely sharing these discoveries with the world is many of the reasons why we continue to support St. Jude Children's Research Hospital. Families never have to worry about paying a single bill from St. Jude for travel, treatment, housing OR food, and can instead focus on helping their child live.
Last year we had the wonderful experience of cheering teams/participants on during the Twin Cities Walk/Run to End Childhood Cancer. This year, the Twin Cities Walk/Run will be held virtually on September 26th, 2020. We will be cheering the countless teams walking/running across the country in spirit! If you are interested in participating you can visit the Twin Cities Walk/Run page here:
Twin Cities Walk/Run Webpage
More About St. Jude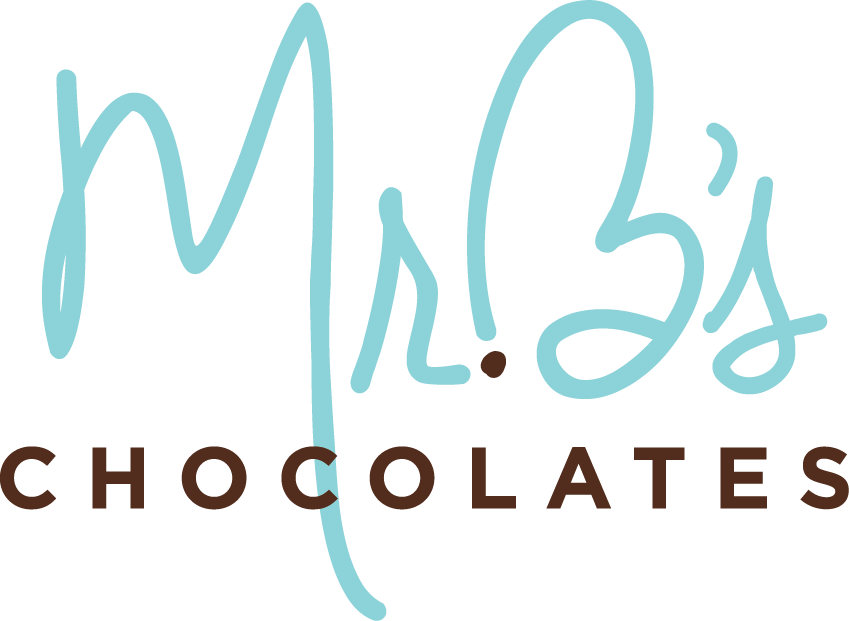 Authentic Belgium Chocolatier located in Willmar, MN
After we partnered with Mr. B's Chocolates for our Valentine's Day special earlier this year we were hooked! Our sweet tooth cannot get enough of their unimaginably delicious chocolates, caramels, toffees...
We knew we needed to continue to spread the word about this wonderful, local business. We are excited to be featuring their chocolates for this year's Golden Ticket Hunt for St. Jude. We have 2 options available - Chocolate Caramels OR Almond Toffee.
You can browse the endless chocolates treats on their website.
Additional Information
If you are interested in making a personal donation to St. Jude Children's Research Hospital via the St. Jude Walk/Run Virtual Event, click here.